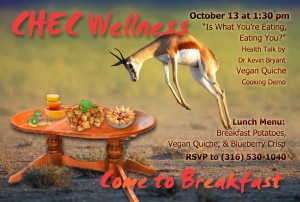 You may not typically eat "Breakfast Potatoes" and Blueberry Crisp for lunch, but October's CHEC Wellness menu is all about breakfast. We figured it was about time to demonstrate some of our staff's healthful breakfast recipes, and we hope you enjoy it! Chef Miguel of the Garden Grill will be making Vegan Quiche as well as the Breakfast Potatoes, and the CHEC staff will be making the rest of the items.
Dr Bryant will [finally] be giving his health talk entitled, "Is What You're Eating, Eating You?" (We had planned to have this talk last month, but it was postponed.)
Learn how to make a vegan quiche during the cooking demonstration by Dan & Kathy Tierney.
CHEC Wellness is a free event, but we accept donations to cover the cost of the food. RSVP to Eric Rose at (316) 530-1040 or [email protected]